These are some misconceptions in digital marketing you need to know.
What Is Digital Marketing Anyways
Digital marketing is all about reaching your ideal customers at the points where they are spending most of their time. Think about when you're trying to find virtually anything (a restaurant, doctor, accountant, all-inclusive resort, Halloween costume): do you conduct research before choosing who to work with, buy from, or even where to start for ideas? Research shows that mobile advertising can be expected to represent 72% of all U.S. digital ad spending by 2019, and also that, as of 2018, American adults spend on average 3 hours and 23 minutes on mobile media.
A digital marketing strategy, especially one monitored and led by a professional, can be a very lucrative asset to your business. Digital marketing is cost-effective, which means you'll be getting traffic for a very small amount of money. Digital marketing is also incredibly responsive; therefore, you'll always have new information to which you can adapt your marketing strategy. And for those individuals who need to see how their money allocated for marketing purposes is being spent, digital marketing is great for tracking ROI.
So why do so many small businesses fail at digital marketing?
Lack of a Cohesive Digital Strategy
When you first start out in digital marketing, you may feel like you're throwing spaghetti at the wall to see what sticks. In some ways, this is good to do, but you should at least have a good starting point before you do.
Marketing is learning, and the foundation to a good digital strategy begins with clearly defining your goals, how marketing will help you reach those goals, and the metrics you will use to reach those goals.
Understand your objectives

Define your goals (associate numbers with goals)

Not your key metrics

List your target metrics

Monitor your results

Celebrate
Set a realistic budget and outline the plan, resources, and time you will need to carry everything through. You should be spending some money on your marketing. If you're just starting, you should know that understanding the areas that are most important to you is a good start. Do you need to generate awareness?
No Idea Who You Are Marketing To
How can you wine and dine your perfect customer if you don't even know what they like?
Do you even know if this person truly needs your products and services? If they do, why?

And how do you solve their problems better than anyone else?
These are fundamental questions every business should be able to answer without any hesitation. KNOW YOUR CUSTOMER! Be obsessive about it; get to know them better every day.
You should be able to answer these questions for a few different target customers you have. Turn these into personas so you can clearly communicate to them in a way that they will automatically trust you. From here you can decide how to get the word out to them through various paid, earned, or owned media, and you'll also be able to control what type of content to create for them: websites, ads, emails, videos, social media, webinars, podcasts, in-person events, e-books, and case studies are some examples.
Break it all down so you are spending your time in the areas of the funnel that can make the most impact on your business based on where you're at.
Remember:
Awareness (Prospects) > Interest (Leads) > Conversion (Informed Purchasers) > Loyalty (Repeat Customers) > Advocacy (Referrals).
Only Coming in Half Way: Lack of Commitment
A lot of small businesses do one thing, and to little surprise, it doesn't change their world; this leads them to say it doesn't work for their business. You have to be consistent and allow yourself the time to put into it or the resources to carry it through.
Putting All Your Eggs in One Basket: Focusing Only On One Media Channel
Maybe one of the most important things to know about the digital world is that it moves fast! It's always changing, and what worked yesterday may not work tomorrow. Plus, there is a lot about the digital landscape that is out of your control. Google, Facebook, fluctuations in media costs, technological breakthroughs like voice search, for example, have given good reason to always be testing and dividing your efforts into multiple channels.
Sure, some will have more of a return than others, but they will all serve your business in different ways and spread your presence out.
For example, Facebook advertising is the place to be for many online retailers like clothing companies. But what if Facebook folded tomorrow, and with them the primary avenue through which you could advertise to all your customers? That'd be scary.
Paying for Traffic That Leads to a Dead End
If you want your website to be successful, it must be accessible. Make sure that all of your links and pages are operational. Additionally, do whatever is possible to keep your website running quickly and smoothly; there's nothing more annoying than a webpage that takes forever to load. Lastly, make sure that all your pages utilize an appealing layout, for this is what customers are going to be looking for—and your branding must be strategically located as well!
Not Tracking Your Results
The best part about digital is being able to measure your results. And what doesn't get measured doesn't get attention.
Make sure you know where you want to be and how you're going to get there; that way, when you get there, you can celebrate! And, more importantly, if you're not there, figure out why and plan accordingly. You should be able to get actionable insights from your data, not just pretty charts.
These are some of the best digital marketing techniques:
Understand your audience

Focus on all three channels: paid, earned, and owned

Yes, there is a lot of free marketing out there that you can do yourself; make sure, however, to invest in at least one paid channel

Nobody wants to waste time or money on something that never had a chance at being the right thing to do in the first place. Know where the low hanging fruit is and where to spend your time.
In Conclusion
The reality is simple: digital change is rising faster and faster every day. The best part is, if you're a small business willing to jump on the digital bandwagon today, you'll be consistent with it and evolve as you go; chances are you'll sail right past your competition and reap the benefits for years to come. With that said, you can't wait any longer to start doing digital marketing.
Hiring an ineffective team that doesn't share your vision could be disastrous: you need to work with people that will take time to understand your business. The right consultant will show you the best direction to save you time and money, and all the while you'll be pursuing your goals. Schedule a FREE marketing strategy session with April today!
Summary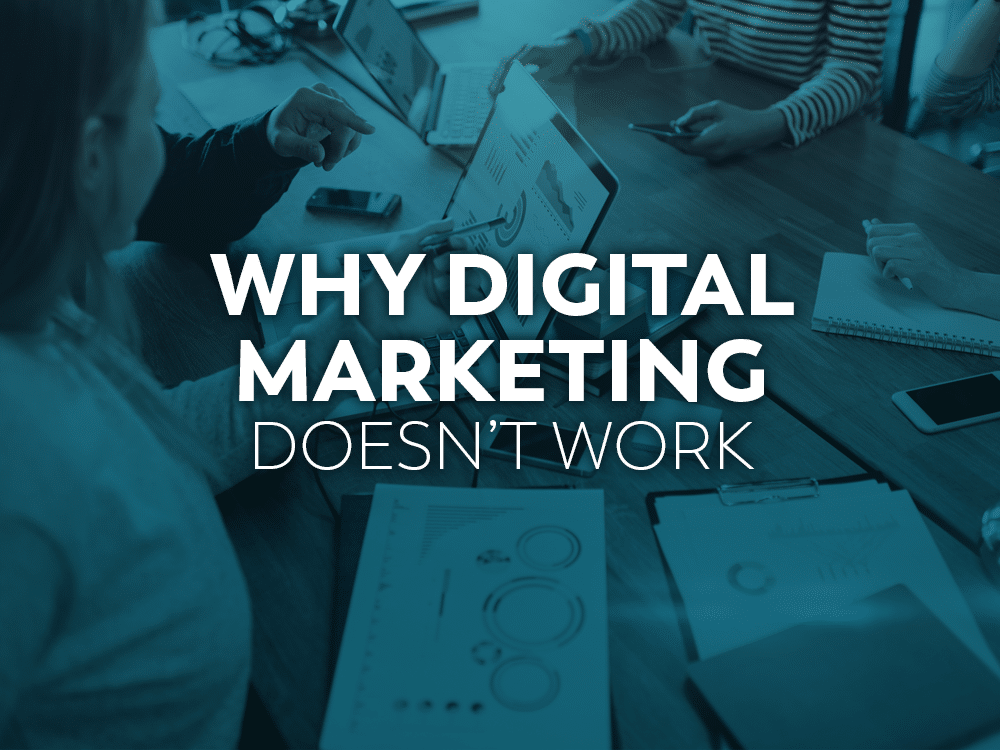 Article Name
Why Digital Marketing Doesn't Work
Description
Digital marketing is all about reaching your ideal customers at the points where they are spending most of their time.
Author
Publisher Name
Publisher Logo