Small businesses account for 99.9% of all businesses in the United States according to  chamberofcommerce.org. It goes without saying that they contribute to the economy not to mention that many of these businesses support their families. Unfortunately, most local small businesses have plummeted dramatically during the coronavirus pandemic.
The good news is that we can all help one another including these struggling local businesses. 
I don't know about you, but it's not serving me to continue to inundate myself with fear and anxiety with everything that we're going through. 
We need to shift our mindset and be encouraging to one another. #Gratitude #Love #Community #ComeTogether #BeHelpful #StrongerTogether

— AE Design Co. (@aedesigncompany) April 10, 2020
That's why I'm writing this article. Now is the time for each of us to help in any way we can. Well, I'm a digital marketer, so this is the best way I know how to give back; to promote the good I'm seeing many incredible San Diego businesses doing to support the community through this whole pandemic. 
These San Diego businesses are shining bright by doing what we all need to be doing right now.
Be helpful. 
There are certainly many ways to support small businesses, but we want to highlight those that are simply giving back, being helpful and not bowing out while others try to wait this out. They are here serving; doing something, still providing value and staying present.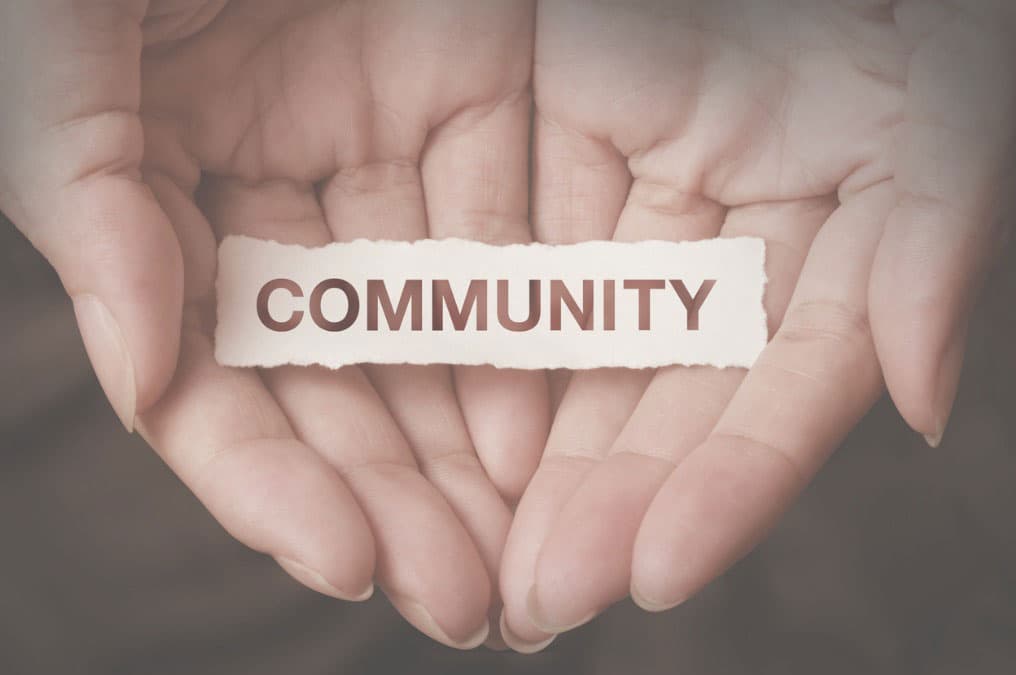 Local Businesses #CovidCommunity Spotlight
Here are some local San Diego businesses that have been recognized by the community and deserve some props and praise.
Well done!
The Fit Mill
A female, mom-owned business that has always thrived off of helping others. They are offering free live, virtual classes Mon – Fri at 6 am. Sign up for a free class on their website, follow them on YouTube for virtual workouts and join their email list to stay up-to-date. These ladies are bringing a strong sense of community and helping us all stay healthy
Hand Sanitizer During COVID-19: Cutwater Spirits & Misadventure & Co.
These San Diego distillers are making hand sanitizers to help non-profits, healthcare workers, and shoppers who can't find it on retail shelves or online! Cutwater Spirits distillery in Mira Mesa is donating hand sanitizer to those in need against the Coronavirus. Vista's own Misadventure & Co. distillery is producing & selling hand sanitizer to keep workers employed and adding jobs.
Lazy Acres Natural Market
Offering super fun (almost daily) free follow along with live-streamed cooking classes. Sign up for a cooking class on their Facebook events page. What better time to brush up on your cooking skills? And, it's fun for the entire family too!
Escondido Christian Center
I can't even begin to tell you how amazing they have been and quick to respond to everything. They are encouraging small groups to connect with each other using Zoom video conferencing. Find a group that shares your interests to connect with while you're in quarantine. Sign up to receive weekly Kid's Survival Kits. Follow them on Facebook and Instagram for recurring worship together. They are also live-streaming Sunday service (and doing such a wonderful job). Learn more about them and get links to live streaming at http://escchristian.com/.
Soccer Shots
So cute! They are reading books for our community's kiddos using Facebook LIVE. They may not be able to coach the kids, but you can see they still care and are doing their part to still help them grow even if it's not in soccer. Check out their videos here and make sure to follow them!
BONUS #1: 111 Free Tools to Help You Through the Coronavirus Pandemic + COVID-19 Freebies (Over 214 deals!) – Deals, discounts, freebies & useful free tools you need to take advantage of.
BONUS #2: Quarantine Sing-a-long! Song of the day posted ~@3PM PST, sing @7PM PST Break up your day with this amazing group that shows gratitude to Just do it!
Here's me getting silly with the sing-a-long!
How You Can Help Support Local Businesses Survive COVID-19
While we hope you take advantage of all these amazing services these businesses are offering, here are some great ways you can help local businesses stay in business during this time and prevent them from having to close their doors:
Order takeout at a local restaurant
Shop online or buy a gift card to help a small business with immediate cash flow
Support your favorite local brewery with beer to go, or buy some of their merch
Fix up your home (or at least get some plans in the works) – schedule a consultation and start the plans
Consider continuing to pay. My good friend is continuing to pay for his kids school because he doesn't want to see his teacher not be around when school is back in. 
Stay home 😉
What else have you been doing? Leave a comment below!
Resources to Help Small Businesses Survive COVID-19
If you are a small business owner, I hope you find the following resources helpful. Know of another great resource? Let me know!
Local Small Businesses Need You!
This article needs your input! What else have you seen around town people should know about? If you know a small business that is going above and beyond during these times, leave a comment below and I'll feature them in this article AND do a special shout out on social media. 
There are so many organizations and businesses that are helping to serve right now, from curbside pickup to virtual museum tours and live streaming concerts and everything in between. See the beauty and stay positive during this time.
Come together.