These times are uncertain, and we are all feeling the impact that COVID-19 is having on ourselves, our family, and our economy. Many of us are not sure what to do, especially if you are a small business owner.
The AE Design Co. team has undoubtedly been impacted. While many of us work from home already, our kids are now at home working with us. We're managing our business and our families at once. We're one-part marketing consultants and one-part home school teachers. We also have to share space and juggle conference times when our spouses need to be on a call at the same time. It's a lot to juggle while still trying to maintain the same level of service, but so far, so good. Plus, it doesn't hurt to have close relationships with our clients.
👉 If you haven't seen this video yet, check it out for a quick laugh! 😂
More importantly, some of our clients are anxious and not sure how to proceed. Many small businesses are afraid to move forward in fear of having to shut down or deal with cash flow issues in general. Some feel it's safer just to stop everything and figure out how to survive then to continue moving forward.
There are lots of changes that we are all getting used to and more to come during these unique times. And we all have questions:
How is COVID-19 going to impact my business?
Should I continue to market my business at such an unprecedented time?
Should I be spending $$ in advertising right now?
Should I stop everything?
What should I say?
Should you Market your Business During this Time?
YES!
If you know me, you know that I am all about planning before doing. Now more than ever, we need a proactive plan to adjust and adapt to the current situation. We need to re-evaluate how we lead our teams and speak to our customers and, more importantly, consider new ways to manage and position our brand to connect authentically. So, yes, market your business but plan carefully.

But How?
See the Opportunity!
Your competition may be driven out of the market, or they may just pull back on their own due to fear. Choose to be optimistic. This could be your opportunity to get ahead!
If this article does nothing else, I hope that it serves as a motivator for you! We're going to help you get through this! There is opportunity! Don't just put a bandaid on these problems; you have to look down the road 12 – 24 months from now. Where will you be?

Marketing Strategy for COVID-19
Use social media to be a voice in your community and for your prospects, be an authority, and a leader

With more people at home and spending even more time on social media, this is your opportunity to provide compelling content to connect with your audience. Be encouraging, inspirational, uplifting – be real.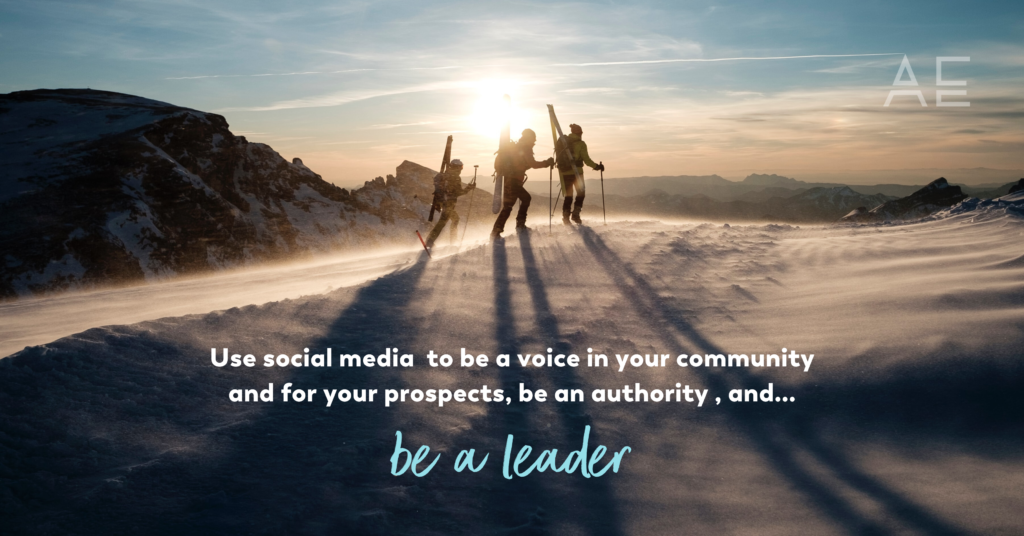 Double down on your advertising spend

A lot of your competition may be pulling back and going into hiding to survive. This is your opportunity to double down on Search Engine Marketing or Facebook Advertising. Take the stage! Plus, costs may be coming down.
Give training

Be helpful! – Genuinely help people with your expertise to help them get through this (like I'm doing now).
Eliminate risk for prospects

Can you offer some of your time for free? Free trial, free consultation, free step-by-step guide? We're not necessarily talking about a lead generation offer, but something that your audience can realistically apply themselves. Think about a portion of your offering that your customers can take the lead on to save you time in your final service and reduce their price. Think this is far fetched? These times require creative thinking!
Virtual fulfillment & virtual events

Move your delivery to virtual (and save costs!) Use live chat and video conferencing instead of in-person meetings. Were you planning to attend or host an event? Due to restrictions of large gatherings, this isn't possible. Host a live virtual event and get your people together. There are intuitive tools like Zoom for video conferencing to get you up and running in no time.
Generate awareness via content marketing

It's true. Some consumers may be resistant to spend money during this time, but it doesn't mean they won't be ready later. Many of them may be spending their extra time doing their research now. Provide helpful articles, videos, infographics, and presentations that attract potential customers and get them into your content marketing funnel.
Provide value & generate leads

People still need help and will be looking more than ever for free info (they want to learn how to do something on their own). Take advantage of this. While these people may not be ready to buy right now, they may later. This is your opportunity to focus on getting people in (generating leads) via lead magnets, tripwires or frontend products. Provide value, and nurture these folks until they're ready.
Nurture into customers via mail marketing

Email marketing is one of the cheapest ways to market your business (and the most effective). Set yourself up for long-term success by building relationships through email marketing. Nurture your existing leads into customers in an authentic way using this channel.

NOTE: Stopping email marketing all together could cause high bounce rates later once you start back up. Consider reaching out to your audience in a relatable way (at last monthly) during these times to stay in front of them and ensure your sender reputation doesn't get compromised. We're available to consult you through this!
Leverage the fact that you are a small business

Be personal. The community will know that small businesses are hit the hardest. Walmart and other large corporations will be fine; it's the small businesses that need more support than ever! Show your personal side. Introduce your team, talk about families, etc.
So what do you do right now?
COVID-19 Small Business Marketing Checklist
Ok, so all of these recommendations are great, but what do you do right now – today?!! Consider these immediate action steps.
Evaluate your service offering and process

Can you switch up your offering tweaking it slightly to better meet the needs of your customers during this time? Can you offer a new service altogether that helps solve more relevant problems people are facing right now? Examples:

We have one client that is offering virtual consultations for their custom deck service instead of in-person.
We're offering Hourly Consultation Calls to help our clients move their business forward instead of relying on an agency to roll things out for them. We're providing the relief they need by guiding them if they can no longer afford to pay someone to do it all for them (at least for now) – especially for those that are just now taking over their marketing, website & communications for the first time.
We have another client that is being empathetic to their clients' financial struggles due to the COVID-19 pandemic. They've reached out to their audience to ask for support. It's a win, win, win. My client maintains some revenue, their clients help mitigate losses in their income, and the end customer feels wonderful knowing that they have helped.
Churches are having service via Facebook & Youtube live. They may be reaching more people than ever because of this!

Update your messaging strategy

Check your current pre-scheduled marketing messages (social posts, automated emails, ads, online listings, etc.) to make sure they're current and contextually relevant. Change your messaging so it shows that you are aware, dealing with everything, and a leader with what's going on. Small modifications will prove to your audience that you are on top of this and care.

It goes without saying that if your business has to make changes with the way you operate due to potential health issues for customers, that you address this everywhere you are present online. Also, make sure to update any business hours or temporary closures.
Reaffirm your commitment to your customers
Create local posts on Google My Business to make customers feel even more comfortable knowing that the information they are seeing is up-to-date.
Consider a FAQs page on your website to address common questions and how you are adapting to COVID-19.
Can you send out any communications that offer creative ways for your customers to handle social distancing? Fun drinks to make at home, games to play with the family. Remember to provide value and show that you are here for them (you don't always have to speak directly about your offering).
Provide useful guides and tips for handling COVID-19 (see the U.S. Chamber of Commerce Coronavirus Response Toolkit)
Communicate with empathy!

Evaluate your paid advertising

OPTION 1: Keep on keepin' on – If at all possible, stay the course with your current budgets. Keep in mind that more people are at home and using the internet. Paid Search is on a pay per click model, which means you are only paying if someone clicks on your ad and visits your website. While the leads or transactions may be down for the time being, these visitors are still showing interest by visiting your site and may return later if they can't move now. Hopefully, you have a solid remarketing strategy in place to leverage this traffic later yourself!
OPTION 2: Reduce budgets rather than disappear – If you must make a change, it is best to reduce the budget rather than pause completely. Option three below explains the disadvantages of pausing your campaigns.
OPTION 3: Stop campaigns (loose competitive advantage) – The worst-case scenario is shutting down your campaigns completely. The longer the campaigns are offline, the higher the loss of momentum that you have achieved over time. If other businesses are staying the course with their marketing dollars, then they will begin to gain a foothold. Once the campaigns are back online, the cost of regaining the lost footing is higher.

Help the community

Are you able to help the community in any way? This is your brand's time to shine in a relatable way. Show your personality and reach people. Can you offer something for free? Can you volunteer your time or lend your skills virtually in any way?
The common theme here is to be helpful!
In Conclusion
Will you choose to be a victim or use this as an opportunity to get ahead or, at the very least, be helpful? I'm incredibly optimistic that COVID-19 is going to fuel innovation for many of us.
Top take-aways:
Don't bow out, don't act cowardly look at the future
Always look for the opportunity (not the excuse)
Be a leader to yourself, your team, your clients, your prospects, your community (not a victim), be the light!
Be helpful, be here to serve and be resourceful. Show people, you can help them.
Position yourself as needed (not discretionary) – sell outcomes – focus on your brand positioning (your strengths, real problems you solve/ focus on results, and how you do it better than anyone!)
Look for ways to fulfill virtually
Plan for the long-term – Many will purchase later once "normalcy" makes its way back. Keep marketing, so you are the first business they think of when they are ready to buy (if not now)
Serve people well and be successful!
Not a Small Business?
How to Help Small Businesses during the COVD-19 Outbreak
Some small businesses are simply forced to close their doors. The support you can give small businesses can help put food on their family's tables, put their kids through school, and, more importantly, right now, help keep them going as well as the economy. Until there is more help, we all need to pitch in.
Read this article to
learn ways you can help local small businesses
.

We're Here for You!
We want you to know that AE Design Co. is here for you and, as always, work hard to make sure that your marketing investments (whether time or money) are working for you. And, we are sensitive to each business' financial circumstances during these difficult times.
I am offering one-on-one consultations to help those that have been impacted and just need some guidance or training in lieu of ongoing marketing implementation services. Pick a time on my calendar by clicking on the "Hourly Marketing Consultation" here. Here are some examples of how I can support you:
Refine your strategy
Re-evaluate your brand positioning
Email communications
WordPress website training
Online advertising changes
Social media posts
Content
Anything else that may have your head banging on the table due to changes in your business!
---
Other Helpful Resources:
---
There is calm in the chaos. Peace is in you. Tell us how you can use the help right now! OR… share how you have adjusted your business recently.