Often, small business owners view marketing as an expense when they should see marketing as an investment, which it is.
Every small business needs marketing.
The digital marketing landscape changes constantly, and competition increases over time. It can be difficult to keep up.
Add to this how COVID-19 has made life and business more uncertain, making it difficult to know what to do. Companies that relied on trade shows or in-person events for sales and leads are struggling.
Many companies, unfortunately, stopped marketing altogether and lost business.
Because AE Design Co. has been in marketing for decades, it does not surprise us to see many small businesses resist the idea of investing in marketing. It can overwhelm you, especially if the marketing strategy does not align with your company's needs.
(And if you're a small business owner juggling multiple responsibilities at once and having to oversee your marketing efforts, too, that makes it even tougher!!)
But, every product and service needs proper marketing in order to find its way to the right target audience.
Sadly, if you weren't marketing online when the crisis hit, you're already behind.
The good news is you can improve your situation. It requires you to change your perspective and view marketing as a necessary investment.
This means you need to add marketing into your budget. It's not an easy thing to do, I get it. There's undeniably a bit of uncertainty in marketing, but the real risk is not being present. Potential customers need to know you exist and understand how you can help them.
Businesses cannot rely on luck as a strategy to grow or find new customers. Instead, they need to invest in consistent, strategic marketing.
Of course, all of this only means something when marketing is done effectively.
If you do your own marketing, you need to take a strategic, informed approach. This means studying the components of marketing – product, place, price and promotion, along with acquiring many new skill sets for the digital age. After implementing your marketing plan, you then need to monitor your results to see what needs to be adjusted.
If you don't have the energy, time, patience, or experience to successfully lead your marketing efforts, consider working with an agency like ours. The agency should be reliable and capable of guiding you in the right direction.
If your marketing is an expense, you're not doing the right things.
When you spend money to market your business, you should expect visible signs your investment will eventually pay off.
These signs can be new customers, a larger following, your phone ringing more often, leads coming into your email inbox, or anything that means more long-term business.
If you're working with someone and not seeing results, then you might want to consider finding someone else. If you're doing this yourself, schedule some time to re-think your strategy, or you can feel free to schedule a meeting with us.
So, what is it: Is marketing an expense or an investment for you?
If it is an expense, then stop doing what you're doing and reevaluate your approach. Try to identify what's not working so you can fix it.
Here are some of the most common pitfalls we see:
Tactics before vision – doing before planning
When doing marketing, it's tempting to jump right into the tactics – social media, blog content, Google Ads, and whatever is trendy right now.
Even though tactics are completely necessary, your business needs to prepare and plan before implementing any of them.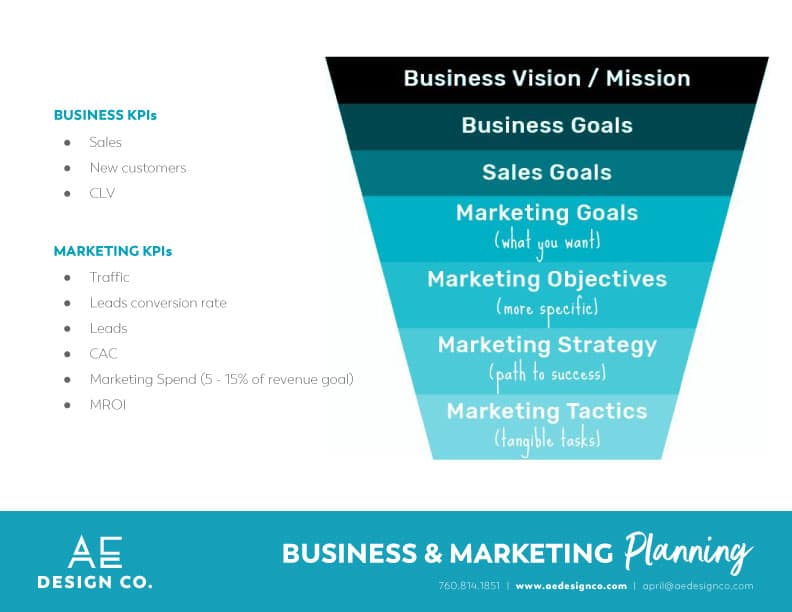 Tactics are a waste of time without a clear vision, mission, and goals for your brand.
Think about it, how can you justify spending on tactics when you don't even have a vision for them?
The top of the pyramid provides an overarching purpose that sets your tactics up for success. This is a no-brainer when the whole point is to take you closer to your vision.
If your current marketing efforts turn a blind eye to this hierarchy, you might have found one of the culprits. This is key to making the right investments and engaging in activities that will take you closer to your goals.
Not optimizing and considering the sales funnel
Another common pitfall is ignoring the existence of the sales funnel.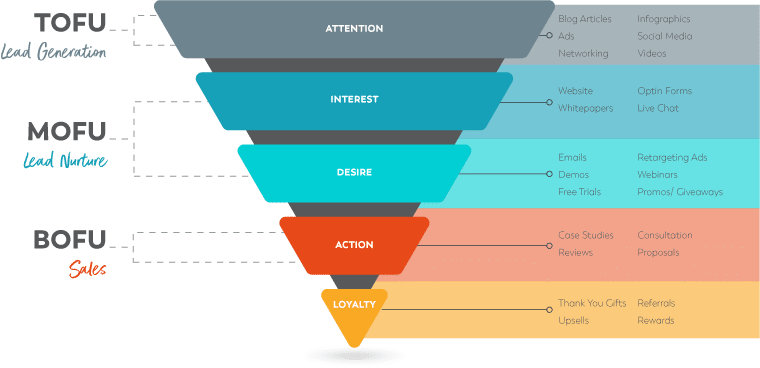 Today's consumers go through a multi-stage process before they make purchases. In the marketing world, we refer to this as the sales funnel, marketing funnel, sales pipeline, and many other terms that mean the same thing.
Because your customers aren't the exception, it's critical to understand each stage to guide them all the way to the bottom of the funnel. Every single sale you've made means someone completed this process.
If you're not doing this yet, you need to be. This is foundational.
At the top of the funnel (TOFU) lies the part of your audience that's just getting to know you. As people move through the funnel, they become more interested in purchasing your product or service.
But, it also means by the end, most people will drop out of the funnel.
Only a fraction comes out through the other side, depending on:
The total traffic intercepted at the top

The percentage of people lost in each stage
When you think about it, marketing encourages more people to enter the funnel and minimizes losses at every stage of the funnel.
Considering that your success largely depends on the performance of your funnel, understanding it well, and planning how to optimize it first is logical before implementing any tactics.
What to do next
The main lesson to take home is that if your marketing feels like an expense, it is not working. Marketing is an investment that is supposed to produce clear, tangible results.
It's considered a qualified "investment" by the IRS because it is tax-deductible. If you book your marketing efforts this year, then you can claim them on your taxes (but be sure to check with your accountant first).
Marketing can be stressful. 
When you work with AE Design Co. you are working with a team of professionals who are experts in the many varied fields of digital marketing (paid ads, search engine optimization, website design, social media, graphic design, and more).
In other words, when you work with us, you will have more time to focus on your strengths and enjoy more freedom because we will handle all aspects of your marketing efforts.
Ready to kick off things? Schedule a free, no-commitment Marketing Audit & Strategy Session today.